Donation Ceremony for HBP Friendship School in Chad
On September 24th 2019, HBP's Marketing Department held donation ceremony by working with Bey Municipality for HBP Friendship School which was jointly donated by HBP and FGC (First Lady Fund).
The ceremony was attended by 28 local attendees including Mr. Ngenia, General Secretary of Silogon District, President's Representative; Mr. Gieshat, Minister of National Defense and Security; Lieutenant General Ousman of Silogon Military District; Mayor of Silogon; Mayor of Mondoo; Head of Culture Department of Mondoo City; Head of Education Department; Deputy Chairperson of First Lady Fund, local media as well as officials.
From HBP's side, the ceremony was attended by Country Manager of Chad; Department of Project Management; HSE Manager; Logistics Department; Interpreter as well as Client's Representative.
The ceremony had been planned to happen at 11:00 am on 24 Feb, but local residents, hearing the news, arrived at the site as early as 8:00 am.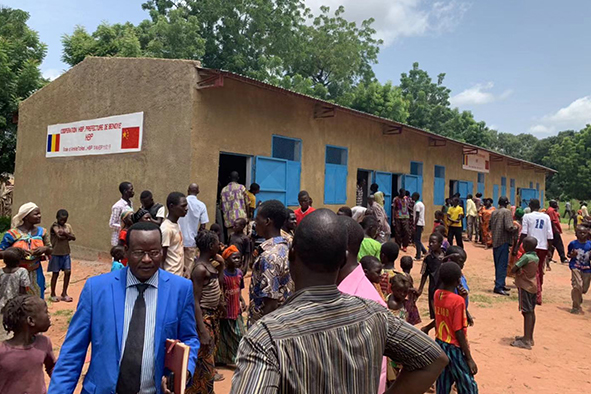 At 11:00, the ceremony was started and speeches were given successively by Head of Cultural Ministry of Benoy, Headmaster of HBP Friendship School of Chad, Pupils' representative, Mayor of Benoy, Country Manager of HBP, Representative of FGC and General Secretary of Logone Occidental Region.
The country manager of HBP said that the establishment of this school was greatly supported by Mr. Huang Song, President of HBP and Mr. Zhou Xueshen, Project Manager. It was Mr. Huang Song that proposed the setup of this school and Mr. Zhou Xueshen was in charge of design and construction to ensure the school to be a model project of HBP's foreign aid efforts. The school école d'amitié Tchad-HBP (Chad-HBP Friendship School) was also named by Mr. Huang Song.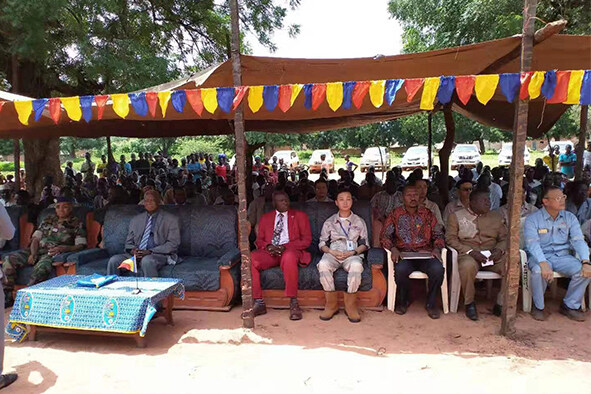 In the process of building the school, all problems such as tight schedule, difficult construction and insufficient materials were solved by HBP's construction teams to complete it on time so that it can be put into use when school season comes.
Knowing that there were no desks and chairs in the school and pupils had to sit on ground and used wooden plates found somewhere else as their desks, Mr. Huang Song, HBP's President, Mr. Xiao Rong, Deputy GM and Mr. Zhou Xueshen, Project Manager decided to create a better environment by purchasing and donating 60 sets of new desks and chairs, schoolbags, stationary and uniforms.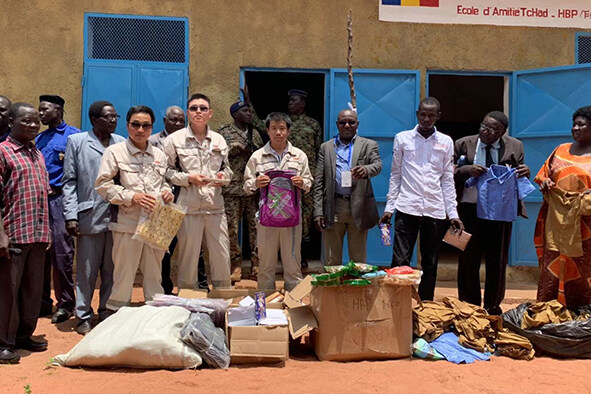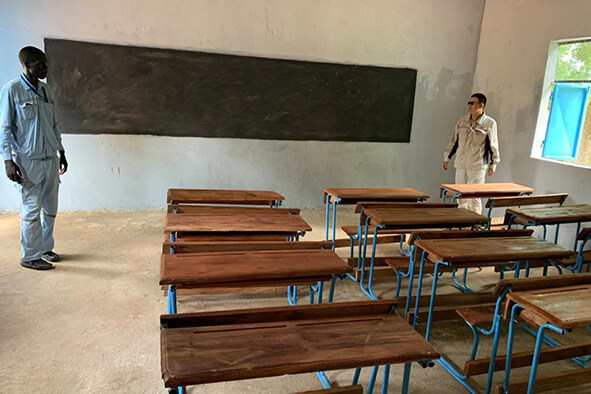 At last, Country Manager ended his speech by quoting what President Huang Song often said: this school is only a step made by Benoy to improve education condition, but a stride for HBP to carry our social responsibility abroad and in the future, we will make bigger and bigger efforts in public good.
Sincere gratitude and respect to HBP were expressed by General Secretary of Logone Occidental Region , Representative of FGC, Mayor of Benoy, Headmaster of Chad-HBP Friendship School, and pupils' representative.